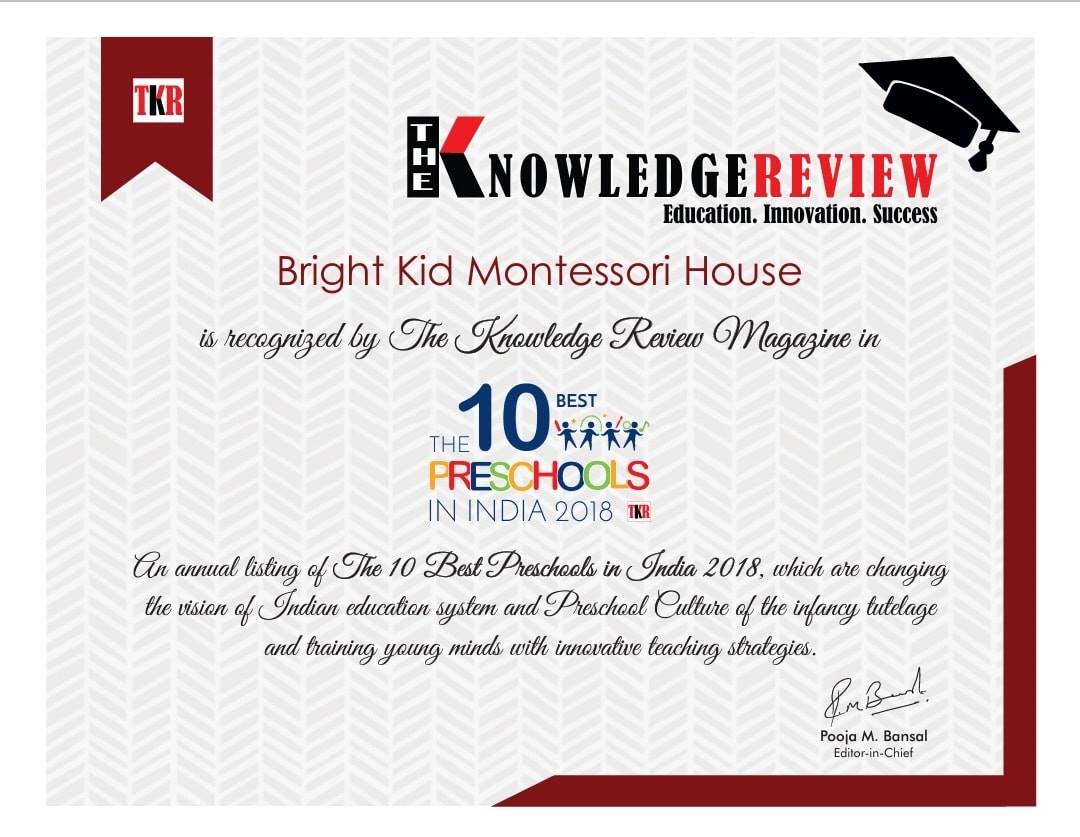 Bright Kid Montessori House
We are excited to share with our readers that Bright Kid Montessori House ranks in the Top 10 Preschools in India 2018 by The Knowledge Review. The Bright Kid Montessori House was founded in 2007 and is associated with providing excellent Montessori based education blended with traditional method of classroom teaching, has its banner flying across the country. Our blended methodology of developing children has been extremely successful and well proven having more than 25,000 students graduating with us over the past decade.
At, Bright Kid, learning is always fun, concepts are always deep rooted, applications are always encouraged, and creativity is always championed. We offer age-appropriate programs for children between the age group of 2.5 years to 6 years - Playgroup, Montessori-I (Nursery), Montessori-II (LKG) and Montessori-III (UKG) for children. Our team consists of well-trained Montessorians, experienced and motivated teachers and attendants who work under the guidance of few highly accomplished management professionals having credentials from IITs and IIMs.
We are committed in providing the best-of-class, warm, nurturing, well ventilated, safe and secure environment for children. With child-friendly and spacious classrooms, children are always seen expressing their excitement and developing their motor skills at Bright Kid Montessori House centres. The Montessori classrooms are equipped with scientifically designed and visually engaging Montessori materials. The indoor and outdoor play are every child's paradise consisting of components and equipment that are carefully designed to encourage early exercise, play and activity. All the centres are equipped with the best of digital learning resources that make learning engaging activity.